L.A. Apparel Industry Seeks to spur Exports - Los Angeles, California - Brief Article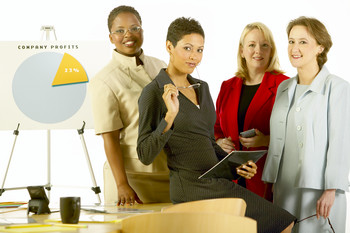 While California boasts the largest apparel manufacturing center in the United States, the state's garment industry is surprisingly inactive in exporting its products.
In an effort to bridge the industry's reluctance to export and broaden its awareness of programs designed to increase exporting, the Los Angeles, CA-based Fashion Institute of Design and Merchandising (FIDM) hosted an informal discussion on the subject Sept. 27. The dinner event was held in conjunction with the California Trade & Commerce Agency (CTCA) and included its foreign office directors and local apparel manufacturers and industry veterans.
Chris Campana, deputy secretary of the CTCA, which includes state offices as well as offices in 12 countries, noted that the agency was set up specifically to help California companies develop their international business. "We have three primary areas to help companies," Campana said, including export development, export finance and foreign investment.
Lonnie Kane, owner of the upscale women's sportswear company Karen Kane and chairman of the California Fashion Association (CFA), acknowledged that it was important to spotlight such programs in the apparel community. "Most manufacturers have zero awareness of the services offered by the state," he noted. "We really need to have the state take the hand of manufacturers and walk them through the procedures ... [and] show them who the customers are."
Indeed, according to Ilse Metchek, executive director of the CFA, only 3 percent of California apparel manufacturers have export programs. However, she said it was essential to the growth of the L.A. design community to become more involved in shipping California brands to other countries. "With every million dollars of export [business] a company does, at least two people are hired by the company, and these are white collar professionals," she emphasized. "So we would love to export because it helps the design aspects of the industry."
Metchek added that now is the time to bolster California brand awareness in other countries. "The kind of apparel that is seen on the streets is what Los Angeles makes. ... We are perfect for exports. There are certain countries like Israel and Greece that welcome the California product, [and] they don't have duties and tariffs," she observed.
Most manufacturers in attendance cited strangling red tape as the greatest deterrent to exporting. They pointed out that to qualify for government aid, such as that offered by organizations like the CTCA, apparel firms often must manufacture their clothing in California. This requirement casts a pall on export possibilities for many L.A. apparel companies that are sourcing their production offshore.
To overcome such restrictions, Metchek proposed: "We need to have a 'Created in California' brand, which means it was designed here. ... It should be irrelevant where a garment is made because the reality is that today ... we are a global society."
Yet even without the red tape, other obstacles remain, namely the fear of the unknown when it comes to exporting. To conquer this apprehension, Warren Hartenstine, regional sales manager for Gerber Technology Inc., suggested both a more simplified approach to export programs and more efforts to tout companies that have successfully exported. "In terms of global concepts, we think of huge opportunities, but we don't think of little steps," he said. "We really need to get companies to explore international opportunities in steps that are simple, uncomplicated, well represented and low risk.
"And although we talk about the possibilities, we don't celebrate the successes," he continued. "We need to create models and identify the opportunities, because if we do that, this industry will attack it."
Andrea Kune, deputy director of the CTCA's office of export development, concurred that the California apparel industry was ripe for export possibilities, and reiterated that the CTCA was prepared to help. "We know that apparel is the second largest business in Los Angeles, and we haven't been able to touch you," she said. "We would like to tap into this industry. ... We're ready to assist you."