Finding performance athletic apparel is NO SWEAT!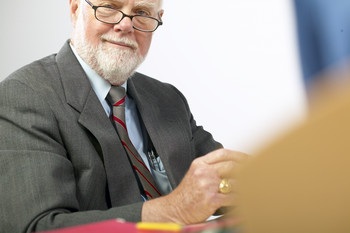 During the NBA Finals back in June, television color commentator Bill Walton revealed a playoff tip that the famed Boston Celtics used during his stint with the team - they changed their uniforms at halftime.
Walton said the guys in green found a way to stay fresher than their opponents by changing jerseys at half to rid themselves of the sweat-soaked uniforms that would have slowed them down and felt clammy against their skin in the second half. Walton said the fresh uniforms at half were one of the Celtics' secret weapons in winning those many championships.
How does this seemingly inane sports trivia impact the business of selling apparel?
Hey, a true apparel sales specialist finds stories for his or her customer to prove a product's necessity. And here is a great one: A pro athlete on national television just said that perspiration-soaked jerseys impeded performance.
Oh, yeah. Get out the purchase order forms.
Have any of you heard about a little apparel innovation called moisture wicking?
Kim Genkinger, marketing director of California-based athletic apparel specialist, A4, is seeing the importance of moisture management in athletic apparel. "Performance fabrics are here to stay at A4. Once a ball player wears a moisture management garment, why would he or she ever go back to fabrics that absorb moisture, add weight, and are just uncomfortable? Price? Not anymore. With A4's aggressive pricing policies, we can sell performance fabrics for the cost of cotton just a couple of years ago."
Genkinger says, "Running, going to the gym and working out are activities that involve sweat. And where there's sweat, performance fabrics are definitely the way to go because of their wicking properties and therefore, overall comfort. Athletes - and we're not just talking about the pros here - want to be comfortable. Beyond comfort, they want something that is lightweight, washes well, and dries quickly. That's what A4 gives them."
Something "Wicking" This Way Comes
Aside from the bad Ray Bradbury pun above, what exactly is wicking?
A garment with moisture-wicking properties is made of fabric - often microfiber or cotton/poly blends - that transport perspiration from the inner surface of the fabric to the outer surface, where it can quickly evaporate.
Sounds good, you say, but what do athletes think about moisture management apparel?
They like it a lot.
In fact, the official website of the U.S. National Soccer Team Players Association dedicates an entire page to wicking fabrics. The USNSTPA is more than a little enthusiastic about the fabric's properties, saying, "Wearing a wicking shirt or other piece of clothing ensures that your clothing won't stay damp with sweat as you continue to exercise. Most athletes now recognize the importance of wearing wicking layers directly next to the skin. Not only does it make for more comfortable exercising, it keeps the body cooler in warm weather, and warmer in cold weather."
The organization offers this advice: "So, what types of wicking clothing should a soccer player look for? Usually, soccer players are exercising in warmer months, focusing on wicking jerseys and even sports bras and underwear may be important... If you are a coach looking to order jerseys for your team or league, be sure to look for "wicking properties" in your jersey."
So if promotional product dealers are planning on selling athletic team uniforms, they better have uniforms with wicking properties in the bag to show.
A guy that knows all about wicking is Rich Nowalk, President of Raleigh, N.C.-based supplier WICKid Performance.
"Wicking is key to successful sales in athletic wear," says Nowalk. "Athletic teams have become smarter and more educated so teams are starting to demand performance fabrics so that they can perform better on the field and in the gyms. To put it bluntly, performance fabrics are what has changed the market and what is selling. Athletic teams hunt out uniforms that feature performance fabrics and are proving they are willing to pay for it."
Okay, the demand is out there. Now what?
Nowalk offers some advice. "Samples, samples, samples. Get your clients to get their customers to wear the product. Once people wear performance gear, then they will become believers and not only great customers, but a source for future sales.
WICKid has a tool on its website called WICKid University. There PPDs can learn about the line and about wicking and its properties.
Nowalk encourages people to get informed. "The goal of WICKid University is to be an educational resource on moisture wicking performance apparel and headwear. As the performance category grows, WICKid University is committed to making sure our sales partners and active consumers are familiar with all the news, benefits and features of performance fabrics."
One thing to remember once you are out there touting the benefits of wicking and performance fabrics is a little thing called "content shock." Wicking fabrics have polyester as a component. Baby boomers, and anyone that has ever worn a leisure suit (and I hope you can't find my junior prom picture), will have an aversion to polyester. The cotton industry did its propaganda work well. We all believe that cotton breathes better and is cooler than any other fabric. The problem with all-cotton athletic attire, you have to convince your client, is that cotton absorbs water - and uniform water absorption is the enemy to athletic performance.
So start getting your sample bag ready.
Where can I find performance fabrics?
Unless you've been Osama's neighbor for the last couple of years (living in a cave), surely you know about the incredible emergence of retail performance athletic apparel brand Under Armour. This line of microfiber performance apparel is worn by NFL players and countless other professional and amateur athletes, and is a white-hot brand among consumers, driving a niche category that was estimated to hit $400 million in 2004 sales.
While Under Armour is the best-known brand of performance apparel, it is far from the only one. Every athletic apparel company is already on this bandwagon. Wicking is readily available from any athletic apparel supplier in the promotional market.
Russell Artwear has introduced moisture management into its Bike brand with Bike DRI. This wicking system is available in T-shirts, shooter shirts, and shorts this year.
And wicking isn't the only performance fabrication attribute available. Russell added SpotShield stain repellant available on polos in its JERZEES last year, and in 2005 added the treatment to a woman's style and to long sleeve sports shirts and sports shirts with pockets.
WICKid's signature fabric offers anti-odor, anti-microbial, thermo-performance and UV protection in addition to wicking moisture management.
Tonix, the Fremont, Calif.-based supplier so well known for its dazzling array of sports shirts, has a number of performance fabrics in its line.
Michael Chen, marketing director for Tonix, a 30-year leader in team apparel, helps his company concentrate on both the fabrics that teams want, but also the team colors that are key to success in the high school, college, and corporate markets.
"Tonix," says Chen, "offers three different brands of performance wear - Technofine, Soft Cool, and Hi Cool. Each of these brands is constructed from varying blends of polyester, Spandex and/or cotton. In addition, differences in how the shirts have been knit together yield a variety of textures that range from a silky touch to a firmer mesh-like feel."
Hilton/Rawlings Pro Dri Micro brand is also worth checking out. The line offers wicking apparel, but also has Odor-Control technology that inhibits the growth of bacteria that causes odor.
Ronnie Williams, national sales manager for the St. Louis-based Hilton Apparel Group commented, "We see the athletic market moving to more and more lightweight fabrics that offer performance and comfort. Our latest styles offer moisture control and odor control, and we have many new products in the works."
Rawlings offers a variety of fabrication blends including poly blends, silks, polynosic and cotton blends.
Colorado Timberline is a Denver-based supplier that has found two special niches in the performance fabric game.
Dan Greene, founder of the 12-year-old Colorado Timberline, has added perhaps the most unique style we saw in our investigation for this feature: the microfiber woven running suit.
Greene describes them for us. "Our microfiber running suits are the lightest and most comfortable fabric in the market. They are truly innovative as they zip off at the elbow, shoulder, and the knee, giving the user four different styles to choose from in one silhouette."