Samab Showcases Diverse Products for Specialized Market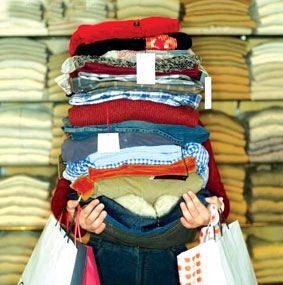 Italy's first trade show for the sewn products industry in the new millennium offered a wide range of technological innovations.
With 402 exhibitors from more than 20 countries, the 10th SAMAB, the International Clothing Industry Machinery and Accessories Show, introduced many innovative garment technologies -- from computers and software to cutting and sewing room equipment. Held March 14-17 at Fiera Milano in Milan, Italy, the exhibition marked the first major event in the new millennium devoted to sewn products technology in Italy.
Italy has more than 17,000 retail outlets per million inhabitants, by far the most in any European country, according to the U S. Department of Commerce's Office of Textiles and Apparel (OTEXA). Complementing this strong market is a vibrant manufacturing sector that is investing in new machinery. For example, Giovanni Cartabbia, chairman of SAMAB's board of directors, noted the fact that 44,284 new sewing machines were sold in Italy in 1999.
Recent surveys by the Italy-based research firms Sistema Moda Italia and ACNeilson Sita estimate that about 36,000 clothing manufacturers are operating throughout the country. Many small- and medium-sized firms characterize the Italian market, and the trend toward custom design and embellishment is important.
Spotlight on Specialty Machines
"The primary interest from my customers is in special stitches," said Massimo Zini, sales officer for Sive S.p.A., an importer and exporter of new, used and rebuilt sewing machines. According to Sive, during the past year the demand for specialty stitch machines increased in Italy, the company s principle market, and in response eight new machines have been added to the supplier's catalog. New introductions at SAMAB included six Venus machines, among them the VP LT2 embroidery machine and the VP 1720 double-needle picot hemstitcher, as well as the Vari-o-matic VP-2 and the Juki DDL-8500 lockstitch sewing machine.
Doretta Pravettoni, a representative for Juki Union Special, agreed: "This show is mainly for Italian customers, who now have high demand for our specialty machines." Popular products at the show included Juki's newly released LBH-1700 electronic lockstitch buttonhole machine, which has six standard buttonhole patterns and the option to expand to 89 patterns. Juki's customers at SAMAB also encompassed manufacturers from Asia and throughout Europe.
With the recent introduction of its Signature 2000 Version 9.1, which has an automated tool for creating sequins designs, Pulse Microsystems addressed another niche demand in the Italian market. "Italy is very strong in specialties," said Claude Vlandis, vice president, business development, Pulse Microsystems. "The machines they sell here are not standard machines. They sell laser machines, sequins machines -- not the standard embroidery [units]."
"Everyone is talking about sequins in Italy. It was key to develop this feature for the Italian market," Vlandis remarked, adding that the tool allows users to create a string of sequins by simply drawing the shape along which the sequins are to be placed. Users can then set the size and density of a pattern, as well as change a design line or its position. Once changes are made, the program automatically updates the design. Lockstitching also can be added at the start and end of sequins segments. Commands to activate the sequins attachment and jump commands also can be automatically added.
Varied Products, Expanding Markets
Sewing and embroidery machines were not the only popular products on the show floor. For example, CAD Modelling, which counts Baby Guess? USA and United Kingdom-based Next among its customer base, showcased its Formax[R] 3-D anthropometrical dummies. Based in Florence, Italy, the company offers mannequins corresponding to a variety of individual body types, from slim to pregnant to obese. Models of men, women, children and babies are all available in forms that categorize body type and calculate range of motion.
CAD Modelling's mannequins allow users to evaluate the size and the fit of clothes without having to follow up with real-life prototype tests. "These models also provide for harmonious sizing around the world [based on body type], which can cut down on fabric waste," company representative Lydia Ferrari explained.
Also on the 3-D front, Hamamatsu Photonics, marking its first European exhibit, presented the Bodyline scanner. Carlo Robino, system division sales manager, remarked: "It was time to bring our technology out. We've had it for six years and its future potential is limitless." The Bodyline Scanner uses eight sensor heads to scan a subject with infrared light, creating a 3-D image in less than 20 seconds.
Veit Brisay, a German producer of ironing machinery, announced its March 1, 2001, takeover of Kannegiesser's garment division, Garment and Textile Technology. According to Fulvio Canadelli, the administrator of Kannegiesser in Italy, "This is an important step for us. Kannegiesser and Brisay products will now be distributed into the Italian market straight from Germany." (Fotomark will continue to distribute Veit products in Italy through its own sales agents.)
Among the products showcased by Avery Dennison were the ST9000 plastic staple fastening system and the Dennison ST4500. The ST9000 feeds polyurethane staples continuously, securing them to objects, explained Marco Franzetti, a representative with Avery Dennison Italia. The ST4500 is a manual machine with a pedal that makes it easier to insert plastic staples.
Avery Dennison also presented the TTK label printer with a foil saving mechanism. Franzetti, remarking on interest in the machine and sales at the show in general, said: "It's difficult to sell at an exhibition in Italy. We've had a lot of interest, but not a lot of sales." The sales come after the show, once the buyers have had a chance to evaluate the products, he added.
While many exhibitors at SAMAB focused on Italy as their primary sales target, other markets also were strong. Eliza Brighenti of Vi.Be.Mac says that 80 percent of the company's sales at the show came from outside of Italy including South Africa, South America, India, Asia and Bangladesh. Particular interest was focused on Vi.Be.Mac's 3022LS automatic trouser waistband application unit, which has one outer lockstitch needle, one inner chainstitch needle, needle-tip feeding and an automatic cut and skip-stitch detector.
Nadine Herold, a sewing consultant for Schmetz Needle Corp., also noted a diverse audience at the show. With its Service House evaluations and Sewing Focus magazine, Schmetz drew customers from all over the world. "This show has brought us business from North Africa, Eastern Europe, Austria, France and Switzerland," Herold said.
The Buzz on CAD
The buzz at Lectra Systemes focused on the official Italian launch of LectraOnline, a seamless online platform that allows partners to collaborate on product information. Noting that the company has 1,200 customers in Italy, representative Julya Neal said the market is important, but the Web site only will be available in French and English. No plans for an Italian version have been announced at this time.
Also of interest were Lectra's ALYS plotter and the Brio 55 spreader. Connectable to PCs, the ALYS can plot files received via the Internet, and it comes with communication features enabling remote maintenance. The Brio 55, an automatic spreader for fabric rolls up to 55kg (121.3 lbs.), can communicate directly with CAD workstations and cutting machines to aid in cutting room management.
In terms of notable software on display, Gallery 1.2, the new version of Lectra's collection management solution, encompasses processes from product design to packaging, including preparing collection plans, assessing costs and structuring information. Lectra's PrimaVision software, which designs fabrics and shows how they will ultimately look on a model, including draping and texturing, also was popular at the show. Garments designed on the system, including pieces from Versace Sport, Krizia Jeans, Intimissimi and Gabriele Strehle Jeans, to name a few, were featured in an on-site fashion show.
Noting PrimaVision's benefits, Neal said: "One internationally known retailer spent over [pound]1 million [US$1.4 million] a year doing catalog production. When they integrated the PrimaVision system, that figure dropped to [pound]400,000 [US$574,000]. In the second year, it dropped even further to the cost of the salaries of the 15 necessary designers."
With the motto "Welcome to the Future," Gerber Technology Inc. introduced its latest marketing tool, the GerberTower, an enclosed structure with large flat-screen monitors and a seating area. It ran presentations continually throughout the show introducing the complete range of products and services offered by the company.